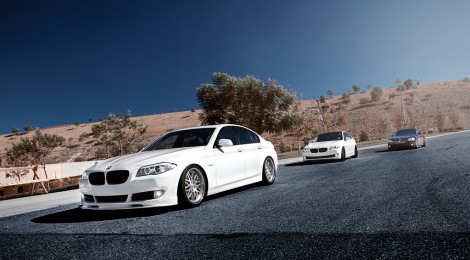 BMW 5-Series Trio Shoot
Update: BIG thanks to BimmerPost for all the support they have given me!
Update 2: Also seen on Canibeat.com for more a more car related post.
A lot of photographers I know often look for new challenges every time they go out to shoot something the second time always topping the first. That's good. I tend to do that and the challenges I come across help me grow as a photographer. Recently, new challenges have been approaching me instead. I've shot Kevin's 5-series when he first bought it. This time he came back and brought along 2 friends. I must admit that all these group photo shoots of cars are very difficult to plan out since moving the cars over and over during a shoot is time consuming and I often go into these shoots with no planning whatsoever. This time around though I had to lay out how the cars should park with a few twigs. It's always a difficult task once more cars are added into the equation. One thing to make sure was the lens was wide enough.
Also like to mention that I recently bought a GoPro HD camera, this little camera is very fun to play around with and here's a behind the scenes video I made with it. It's the first time I'm getting back into video since 2005, so I may be a little rusty. Let me know what you think!
Click here for the rest.