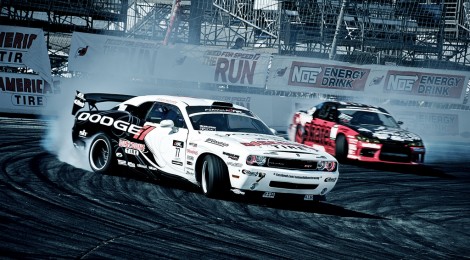 2011 Formula Drift Round 7 Title Fight Qualifying And Championship
I've noticed that a lot of photographers take big photographic opportunities for granted like Formula Drift Round 7 the Championship for example. It was held at the local Irwindale Speedway better known as the Toyota Speedway or the House of Drift. Where it all started. I was able to attend both the qualifying and championship days. Why I say this is event was a huge photographic opportunity is because you get to shoot right next to very well-known motor sport and car photographers who have earned their ranks and are respected in the community. Just watching a portion of the photographers who were considered "media" was somewhat hard for me to digest. Shooting with an entry-level DSLR with auto settings is fine, if you can clearly show you know what you're doing, but standing idle and clueless while asking others how to adjust settings is whole other ball park. And that really leads me to question the shooter's passion. Is it really there? Or is just a task just because you want to add something to your so-called "car blog"? I really don't know. Even Formula Drift staff admit that they must be more stringent next year when choosing media credentials. Nowadays anyone with a DSLR can claim to be a "professional" photographer and anyone can start a "car blog" for free even, but just how qualified are they? Is there skill or even passion? I don't treat photography as a task I must do, even when I work for clients under contract, I still rush home after every event or shoot and start diving into my photos all the time. Sleeping and eating can wait. I do apologize for the rant that might come off as harsh and maybe even conceded, but that's just my personal opinion as to where the industry is headed. I'm not here to gloat about me being the best automotive photographer out there because I truly am NOT. I'm merely stating that it's a privilege to be able to shoot amongst household industry names. It's the meaningless saturation that really bothers me. There must be some sort of quality control.
Wow… I managed to digress so bad, I almost forgot about my Formula D 2011 Title Fight and Fatlace Slammed Society Showcase coverage. Here it is! Once again, since I personally think that drifting has such a gritty feeling associated with it, I thought I'd go wild with the editing. And as usual, with my motor sports photos, I get a little crazier. The contrast is bumped along with the tones. Hope I didn't over do it!
The ladies

Fatlace Slammed Society Showcase
And if you're interested, I did attend the first round of Formula D too at the Streets of Long Beach.
Click here for the rest.