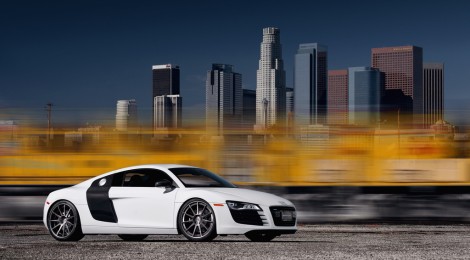 Image Build Audi R8
I receive an average of 30 emails daily about my post-processing, so I'm going to show everyone just how I process an image from beginning to end. This Audi R8 will be taken from a fairly recent set I did for iForged Wheels which you can find here. Take a look at the image below, that's the final result. So follow along to see what I do behind every photo I open up in Photoshop. This is the world premiere of an image build by 1013MM. Enjoy!
Below is the image unedited straight from my camera which was a Nikon D700. This photo was shot with a Nikon 70-200mm f/2.8 VRII lens at around 10am. The image was imported as a raw to Lightroom 3 to help me categorize into dated folders and export into JPGs and that's all I usually use it for. I know there are plenty of ways to import and export images, but this has worked for me since the beginning and I'm sticking to it. Is it the most efficient? No.

As you can already tell, no strobes were used since I am lazy and hate lugging lighting equipment around when I shoot solo. I could have gotten the same end result with lighting equipment. It's just personal preference, I'm not saying not to use lighting or over process. What I am saying use what best suits your shooting style and workflow.

You may have noticed that right off the bat there are a lot of things to clone out and so I duplicated a layer and began my cloning. Remember, always used new layers never flatten an image you're working on or only work on one layer, that's destructive workflow. Always keep in mind that you should be able to hide all the layers in your final .PSD file and you should be able to see the original raw file.

After the cloning, I added the moving train in. This was a little idea that popped into my head during the shoot when the train passed and I knew right then and there that it had to be in the final edit. I'm not going to go into too much detail here, but it's pretty obvious what I did. Sometimes ideas like this just pop into your head, so always be open minded when it comes to Photoshop. Think of a photo as an open canvas for you to "paint" and have fun with it. The bright yellow train really help to bring out the white car from the white/grey wall behind it which made the car blend in too much.

Next I added in the "lights" and brought out the front and wheels of the car. There are plenty of methods to do this and it is especially easier with a white or silver colored car.

Then I added in the color toning. I felt that a reddish hue would compliment the yellow, white and blue tones already in the photo itself. It helped to take out some of the greenish cyan tones which didn't really bring out the background buildings. After all, I wanted to show off the LA landscape a little too just to dramatize the overall image.

To finish off the image, I took out the power lines which were very distracting. Contrast and sharpening were also added to help make the final edit "pop".
There's more to it that just moving sliders, a lot of creativity and thinking is involved behind the scenes and I feel that some people just don't understand that. This particular image (not the full set) took 8 hours from beginning to end non-stop.
I hope this helps bring to light just some of the photoshop techniques I utilize when I edit photos. If you are interested in the full set click here.