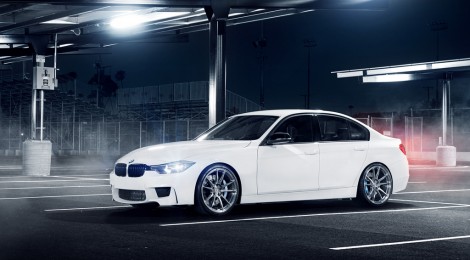 Our 2012 BMW 328i F30 Project Build
There are plenty of automotive photographers who not only photograph cars, but he or she will build cars too. I am one of them. It's the best of both worlds when you get to build a car and then photograph it. Looking back to my automotive photography roots, it's exactly how it all started. The urge to modify my car, brought on the need to connect with aftermarket companies and shops such as HRE Wheels, Rotora, Slek, LTBMW, United BMW, and many more whom I still work with today. Today, I am introducing to you my next project that my girlfriend and I will be working on. It's a brand spankin' new 2012 BMW 328i F30 sedan. It's actually a complete departure from the older E90 sedan chassis. Everything feels more user-friendly from the interior read outs / buttons to the handling and performance. Don't let the inline-4 scare you away, it's turboed and still fun to drive while saving you plenty of mpg. We managed to get around 40mpg on our very first tank. So check out the photos and be sure to stay tuned as I will definitely be taking plenty of photos to document our modifications to it.
The beginning thanks to Paul @ Irvine BMW for quick service and response. He got me this beauty at the lowest price possible and before it even touch American soil. Amazing experience dealing with him.

Click here for the rest.