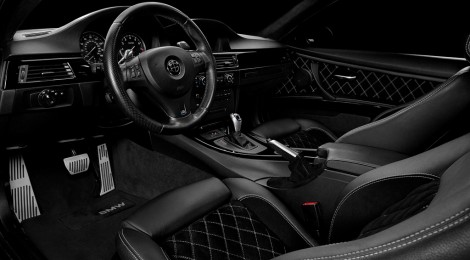 Image Build Interior Shots
In this post, I'll show you how I normally shoot studio-quality interior shoots on the fly, meaning it'll be quick and dirty method, not perfect, but still good to read. You'll need a few things, a white sheet that is semi-transparent, a tripod, a speed light (a couple will make your life easier and faster, but will take more time to setup), a light stand, and a radio transmitters to wirelessly pop your flashes. I won't go into the flash or camera settings as YMMV depending on where you shoot. This shot was shot in a dark parking garage so a lot of my exposure was jacked up as you will see below. The following is the final shot you want to get:
First I positioned two Nikon SB600 flashes with umbrellas. One pointed towards the dash on the passenger side and another pointed towards the steering wheel from the driver side. With my transmitters synced, I was ready to shoot my first exposures. In this case you want to choose a higher f-stop so more details are in focus, the higher the better, without having to crank up the ISO too much.
As you can see the first exposure came out a little too dark, but I was fine with that, the ISO was cranked to 400 I believe and although my Nikon D700 is known to handle high ISO very well, I would rather it be shot in lower ISO for less noise. It was also a little too dark because the f-stop was cranked up so more was in focus. Another obstacle to note, was that I did not want to turn the shutter speed too low to compensate because I do not own a wireless trigger for my camera, so I had to physically press the shutter for every exposure and I wanted to avoid shake. This is what I meant by YMMV, everyone will have different setups and situations. My method is not perfect, but it gets the job done. I will correct my own "mistakes" for the next shoot. Lesson learned.
Next up you want to light the top of the seats and get some rim lighting on the top of the dash, so that the dash does not fade into darkness. And since I was shooting an near 100% black interior, it was a must to get some rim lighting.
This is where the white sheet comes into play. I flashed my two flashes directly through the windshield and through the sun roof above. The white sheet will act as a diffuser so that you do not get epic flare that will ruin the exposure. All in all, the light will be way softer with some sort of diffusion.
It's important to note, not to move or shake the camera even a little while shooting these exposures, the only things that should be moving are you and your speed lights. The reason for the camera staying in the same spot is so that you can stack all your exposures together to for the final image.
After all the exposures are stacked you will have an image like shown above. At this point, it was a little dark because my exposure was off. So my next goal was to play around with the lighting in photoshop and bring out the lighting a bit which resulted in the image below.
While playing around with lighting in photoshop, please take note not to over expose the image resulting in the highlights being so blown out that the details are lost. The contrast has to be spot on. In this case, the contrast and lighting had to be on the dot in order to bring out all the details of the black interior.
After I was satisfied with my lighting and contrast, I did some minor clean ups and corrected the color.
*Helpful tip: Don't forget to close and light the passenger door too.
This whole process is very detailed, but if you can pull it off then, you'll have one hell of a final image. Hope you all found this informative. If you have any questions or comments, please leave a comment below.