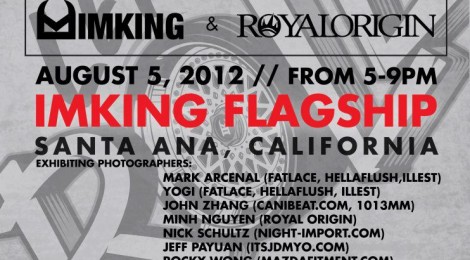 INFAMOUS – Hellaflush x Canibeat Pre Meet Contest
Contest details below…
This Sunday my work will be displayed alongside other talented LA photogs at the IMKING store front in Santa Ana. If you have some time please drop by to see my work that I've put a lot of time and effort into. I appreciate ALL your support that you've all been giving me throughout the years. This will be my first official exhibition with several of my personal favorite pieces that I spent at least 10+ hours of work on each.
Click here for more info: http://www.facebook.com/events/417454531632962/
To spice things up a bit, I decided to have a quick and simple contest on Facebook and Instagram. I will select 2 people to win a free poster, keychain, and stickers from me if you go to the event and take some photos with your photo or camera then upload them to Facebook or Instagram. There will be 1 winner per platform. For the Facebookers, please upload your photo to my Facebook fan page. And for you Instagramers out there, please tag your photos with @1013MM or #1013MM. I will choose the most creative photos I see from the event and announce the 2 winners on Facebook. You can enter as many entries as you want, as long as they are from the event.
Fan me on Facebook
and
follow me on Instagram
!