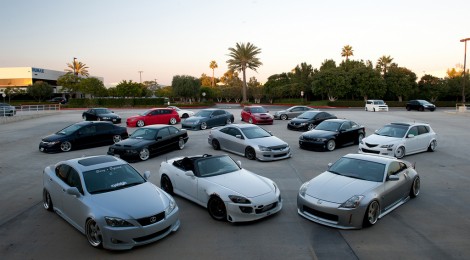 2011 Autocon Promo Shoot Breakdown
A year ago around this time, I had come with an idea to shoot a group of cars. By group, I meant, 10 cars plus just to experience how it would be. At the time, I had already shot groups of 3 and groups of 7 even. So I thought I'd experiment a little. The shoot was done on the fly at an unscouted location which caused us to improvise. Little did I know that positioning 15 cars would be so difficult. We had to figure out the best way to organize the cars and minimize hiding them. In the end due to the sun rapidly setting, we had to settle on an "organized scatter" of cars to shoot.
This is how it looked originally.

Then I cleaned up the photo a lot. I took out all the distracting elements and wanted the focus only to be on the cars themselves since it was a promo for a car show.

As usual, after clean up, I added some lighting to the image to help make the individual cars pop.

Then I filled in a sky just so that the top of the photo did not look empty. Thus making it a more dynamic photo that is supposed to be viewed as a whole. Notice that with the sky addition that it did not take away from the focus on the cars, but complimented it.

Next up I had to color grade the photo to make it all have the same grading as the sky. I really wanted to push the fact that it was sunset hence the pink and orange tones.

Then onto the final touches.

Although the photo is a year old, I hope it helps to shed some light on my editing style.