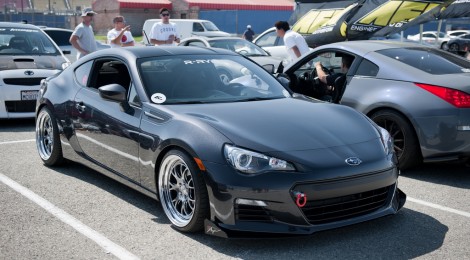 2012 86fest and Formula Drift Irwindale Final Round
It's been nearly 2 weeks since I've touched this blog. I've been pretty busy rushing last minute SEMA projects which I will post when the time is right and also my birthday, 10/13 (obviously). However, in between all the hectic car shoots and chases, I managed to go to two events. The first was 86fest and the second was Formula Drift Irwindale / Slammed Society Showcase by Fatlace. Unfortunately I accidentally deleted 80% of my 86fest coverage during Formula Drift as I thought I had already exported the photos. So this is why I'll be combining both coverages into a single post. Always remember to bring out a second card and export all photos after every shoot. I'm usually very good at that, but I guess since I had my birthday festivities to attend, it all slipped my mind. Partied too hard :\. Anyway, back to the coverage! Enjoy.
FR-S and BR-Z everywhere at 86fest. Glad to see that people are already on the gas pedal when it comes to modifying these fun cars. I have a feeling that it won't turn out to be a cult car like a S2000, but it has to potential to be just as fun.

There were other makes there as well.

And that's it for my 2012 86fest coverage. LOL. So sad about that. There were plenty of super nice cars out that day including a Mclaren that got completely totaled on the track while racing a turboed BRZ.
Now onto the the 2012 Formula Drift Irwindale / Slammed Society Showcase by Fatlace. This time I made sure to upload the photos right when I got home. I declined to sign up for media this year after realizing the event would fall on the same day as my birthday, having to rush some SEMA projects for my clients, and coming to terms that I had never actually been to a drift event as a spectator. I did enter the Slammed Society Showcase and eventually won Best Euro to my surprise.
Thought this was pretty funny.

Speedhunters had their own booth. Here's Jon Sibal's super sick car.

300zx from Arizona that won Best Import.

Almost full carbon fiber Miata.

Clean Silvias everywhere as expected.

Wow.

Hello ladies! Hankook always has the best looking girls.

The Linhbergh does an autograph signing.

The surprise of the night, my BMW 135i winning Best Euro.

And then the top 16 started…

Click here to see the rest.