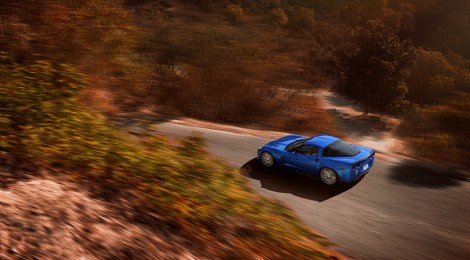 Corvette Z06
Today I have Corvette Z06 that I shot for a private individual. It was a nice opportunity for me to experiment since I wasn't shooting for a company which meant that I didn't have to abide to any specific location, angles, editing methods, etc. In addition to that, I really wanted to push the color grading and overall the editing in this set because the car was brightly color and screamed for that type of attention. We even had complaints from a bystander saying that the car was loud to be in the neighborhood we shot in. The shoot itself was quick and easy, but the editing took more than 2 weeks to complete. I will get into why as you continue to read along.
There are times when a client will ask for something specific during a shoot that is simply impossible due to a wide variety of factors. In this case, the client asked for rolling shots, however, the location had traffic and was a one-way mountain road. Panning shots was an option, but would have been very time consuming and loud. And as I've stated already, we had complaints of the car's loudness even when the car was idle. We were not about to risk getting kicked out of such as great location. On top of all that, there would be no room to set up a rig to do a rig shot because it was a one-way road. So what I basically had to do was to fake the rig shots. I took several exposures which included one with the car not moving in frame where I wanted it to be in the final image and one without the car in frame. I then added motion to the frame without the car and transplanted the car in it. The whole concept itself seems simple and straightforward, however, balancing the lighting and shadows to make it all flow together was a whole different story. I'm considering to type a blog post in regards to how I processed these faked rig shots. Leave a comment below if you want to see an in depth post regarding this.
A special shout out to Ste Ho for helping me "rig" these shots.
Click here to see the rest.