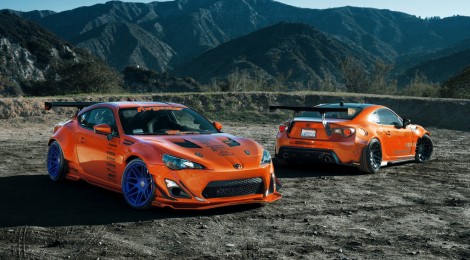 Dual Forgestar Rocket Bunny Scion FR-S / Toyota 86
Wow, it feels like a century since I last posted, so I'm going to come out with a bang. Last weekend, I got together with 2 of the widebody Rocket Bunny Scion FR-S from Forgestar to do a dual shoot. Those who follow me on my Facebook page knew exactly what went down. Last year during SEMA it was all about the RWB Porsches and this year, I guess the Japanese caught on and realized just how much hype they could get so Kei Muira, the man behind TRA-Kyoto produced a kit for one of the most hyped cars of 2012. In person, the kit flows very well with the original shape of the FR-S and the rivets did not seem like an afterthought, rather, they seemed much more like complementary pieces that added to the overall look of the car. The widebody and the massive wing make the car look ten times more aggressive. Both owners chose Scion's Hot Lava color so that it would grab the most attention. Check out the photos and leave a comment to let me know what you think. I have a handful of exciting photo shoots to post when the time comes. Since many project cars are still fresh after SEMA, you can only image how busy I still am.
Click here for the rest.