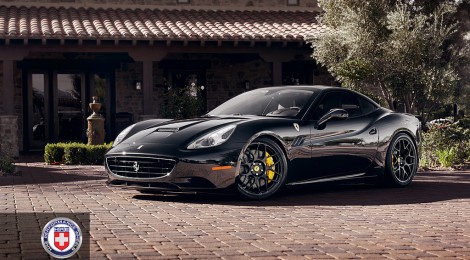 2012 Recap
First of all I'd like to apologize the lack of activity recently due to the fact that I've been bombarded with a lot of last minute year end work that has yet to be posted. However since it's still 2012 I thought it'd be cool to post a 2012 recap. Looking back, it's been quite the year for me. If you didn't notice already, I have been working very closely with 5 major companies. The companies were HRE Wheels, iForged Wheels, Forgedstar Wheels, SSR Wheels, and Rotora. While working with these companies I was able to shoot a lot of cars besides BMWs. Thus, this year I was able to expand my automotive horizons. So here's just a look back of some of the cars I shot this year alone.
January started with HRE Wheels contacting me to shoot a new Ferrari California and Range Rover Evoque. Both very unique cars shot at unique locations.

Soon after that iForged got in touch with me through mutual friends and as a result I got to finally shoot one of my personal favorites, an Audi R8.

As soon as I had a little free time, my friend from junior high who happens to run Baus Auto contacted me for a shoot of some of his customers' cars.

Then I travelled up to norcal to shoot my friend's BMW 325i.

But a week before I went up to norcal, I shot my friend, Darren's 335i to M3 conversion for Performance BMW.

As soon as I got back, another BMW friend of mine asked me to shoot his BMW 535i.

Then Formula Drift 2012 started again in Long Beach.

A few weeks after the event, I shot a widebody Porsche for Forgestar Wheels.

Along the way my girlfriend and I started a new project. A new BMW 328i F30.

As soon as we started to modify the car, HRE Wheels put me in touch with my first Benz shoot. The car sounded amazing.

Shortly after the Benz shoot, I found myself alone with the keys to a Ferrari 458 Italia. A truly amazing super car.

As Bimmerfest came close, LTMW had me shoot their project BMW 535i to M5 conversion.

Then I was flown back up to norcal again and shot a widebody BMW 135i on the same day.

Right after I got home, I shot another BMW 1-series, but this time it was a 1M for Slek Designs.

As summer came along, I was able to work with another amazing wheel company. This time it was SSR Wheels.

I then had another client fly me up to norcal again for another 1-day shoot. This time it was two unique Honda S2000′s.

As soon as I got back I began shooting for SSR Wheels again.

In between the SSR Wheel shoots, iForged let me shoot another one of my dream super cars. This time it was a Mclaren MP4-12C.

Once I finished shooting the Mclaren MP4-12C, I was given another Mclaren MP4-12C to shoot. This set in particular set off a massive reddit thread which ultimately gave me an instant spike in traffic and a few sever time outs. You can read the thread here.

While work on our BMW F30 project, Rotora got in touch with me and gave me a few cars to shoot. The first was their Nissan GT-R which was extremely clean.

I took a short break a was finally able to edit my friends very unique BMW set that I shot early on in the year. This is Blurple.

Then VIP Modular Wheels got in touch with me again this year to shoot their old school Ford Mustang.

In the beginning of fall, the owner of this beautiful Corvette Z06 contacted me for a private shoot. I don't really have much time for these anymore, but I am going to split some time out in 2013 for more private shoots. I was a really nice breather for once.

Then came SEMA 2012 and as soon as I got back I was commissioned to shoot a couple of the cars I saw from the show. Forgestar had me shoot 2 Rocket Bunny Scion FR-S together.

Another car I had to shoot right after SEMA was Vivid Racing's brand new BMW M5 for SSR Wheels.

As November came along, I attended Socal Euro in San Diego and was asked to shoot 2 cars during the show. I show a BMW E46 M3 and Sir Mix-A-Lot's old Lamborghini Murcielago back to back for HRE Wheels.

There are still quite a few sets from this year that I have yet to post and will post in due time. However, it was an extremely busy and eventful year with me. I am very proud to work with such companies and people. 2013 will only be better. If you want to view the rest of the photos from their respective sets, you can browse through all my 2012 work here.