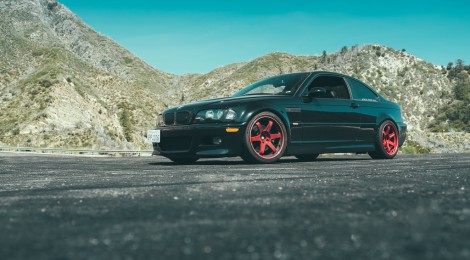 BMW E46 M3 Project
With so much new work constantly filling up my desktop space and hard drives, I find it hard to take out time and actually sit down to brainstorm or even write a blog article. So far 2014 has been pretty crazy for me. There hasn't been a day this year that my computer is free of a folder full of unfinished photo sets. I guess it's a good thing, but other things do tend to get neglected like this blog and it's content. However, in the midst of everything my girlfriend, Courtney, just picked up a second-hand BMW E46 M3, which in my opinion was the last true M BMW ever made. Aside from our usual show car projects (a BMW 135i and a 328i), this M3 will be going in a completely different route.
Since it's an M, the car will be modified for the occasional weekend track day and yet still be a reliable source of transportation to grab groceries. With that in mind, Courtney had even purchased a set of Volk Racing TE37RT new before she even found the right M3. It was a deal she couldn't pass up from Platte Forme A.G. There were a few variables that she was adamant about and that was the car had to have less than 100,000 in miles, manual transmission, and white. After searching for a few months we couldn't find any matches until she opened up her color options and stubbled on pretty decent black '04 with less than 90,000 miles. It needed the usual subframe reinforcement and maintenance here and there, but that's what anyone in the market looking for a second-hand E46 M3 should be ready for anyway.
After all the maintenance was done on, one day Courtney suggested that we go on a canyon cruise to Angeles Crest just for fun. I eagerly agreed since I've been cramped up in the house everyday with endless photos to edit. Angeles Crest is only 15 or so minutes away from us so we were more than motivated to go. With Courtney behind the wheel, I was sure that my life was in complete safety.
I haven't been back up Angeles Crest since 2009. It was fun then and it should be fun this time around. The uphill accent was when my excitement really started to peak. Since Courtney was driving and I suck at manual, I would be better off sticking to my camera. I was going to document this canyon drive with my Fujifilm X100s.
As we climbed, I had to make sure my hair was still on point until we reach speeds that I could safely take photos with my camera out the window.
Soon we reached our "mid-point" and took a quick break to let the car cool off and look pretty while we took a few snaps under the hot Southern California sun.
As a BMW guy, the M3 badge is something to be proud of. Sometimes this thinking might be misconstrued and some enthusiats take the "badge-bragging" to a whole new level. I was just happy to ride along in a M.
I was concentrating on snapping away that I had forgotten where Courtney went until I turned around.
I thought she had fallen over, but she was just taking a selfie with her car. No harm in that, just remember to always use a filter and never cover more than 50% of the subject behind you.
After the quick mid-point stop, we decided to head up a little more. Obviously we paid attention to the speed limit.
With the car getting dirtier and the brake dust getting thicker, we decided to stop at our final destination so that Courtney could take more selfies.
I honestly had forgotten just how beautiful the view was from Angeles Crest. It mades me just want to snap away and so I did.
Soon it was time to begin our inevitable descent since heat from the sun was getting unbearable and my knees and arms were starting to fry from leaning on the tarmac for photos.
It was an awesome run with the lady as the pilot until we caught up to a driver who knew nothing about canyon driving etiquette and was "driving Miss Daisy" as Courtney likes to say. That basically means holding up lots of traffic. This is the look she gives when drivers do that.
After we got past the slow driver in front of us, we ended our canyon run with the car all in 1-piece and running great.
There will be more modifications going on this car soon and I'll be sure to update when the time comes. It was very refreshing to be able to write something for this blog that was actually thought out beforehand. I think I may have to write more again in the future so be sure to look forward to it.