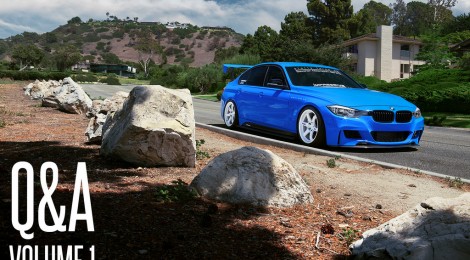 The 1013MM Q&A Session: Volume 1
I forget where I got this idea, but I was looking through my newsfeed one day and saw another blog that did one recently and it was a pretty interesting read so I thought I would share one too. My original intent was to answer 50 questions or more, but soon after the questions started to come in on both my Facebook page and Instagram, I realized that many questions would be repeated. Also, the reason why I'm referring to this as "Volume 1″ is because I believe that once the Q&A sessions get going, there will be more questions for me to answer, which I don't mind. It just takes time to get to it. I'm hoping this first one is good enough for you. So here we go…
David Lee Can you post a video tutorial that's sped up to show your magic work?

I've thought about doing videos, but why do videos when I can do cool gifs like this?

Charles Lam Also, when are you going to visit me in Europe? LOL
As soon as I have the money or a plane ticket whichever one comes first. My passport is ready all the time.
Tylyr Lenc Tips for getting rid of reflections on car paint?
There are plenty of ways of doing this with various degrees of difficulty. The easiest way would be to use a circular polarizer. I use a Nikon one myself, but brands like B+W and Heliopan work too. Just be aware of the cheaper off-brands that might ruin the overall quality of your photos. I won't go into technical detail on how a polarizer works, but it does a great job cutting out a good majority of reflections depending on how and what time of day you use it. You can see the effect in action if you put on some polarized sunglasses like Raybans.
Then there's strobing with a circular polarizer. If you didn't know, using strobes at just the right angle can cut out reflections. When the polarizer is used correctly, it'll cut out reflections while the strobe aides in bringing out the paint on a car. This is tougher to explain, but works and the science behind it proves it. This method takes a lot of practice and patience. I learned it through getting advice from other photographers and experimenting. Try it out sometime and see what happens, you'll be surprised.
Finally there's the whole "fix it in post" method which probably takes the most time and effort. You can combine the clone, healing brush, and brush tools to create your own gradients in post. This will give you perfect gradients and paint; however, it takes a lot of practice and time to master. Otherwise the car will look flat or fake.
Max Kohler Which lens do you put on your iPhone?
I used to use an Olloclip, but it broke and now I just stick to the iPhone without a lens. It's less bulky to carry anyway and doesn't bust my skinny jean pockets.
Shariar Lincoln When did you start photography?
I would say back in 2007 was when I really looked into buying my first camera. I would be spending close to a year in Asia traveling so I saved $400 and bought my very first DSLR on ebay secondhand. It was a proud moment. Before that, I was already experimenting with Canon and Sony 2-4 megapixel point and shoots.
Thien Ngo how many fingers big is your forehead exactly
I have a pretty big forehead. I count 4 fingers big. And here's proof:

Tom Morrison what gear do you use from start to finish (camera, accessories, computer, software, printer for prints?)
My gear for a typical car shoot usually consists of a Nikon D800E with a Nikon 24-70mm F/2.8 lens, Manfrotto 055XPROB (I don't recommend any Manfrotto tripods, all of them have broke on me and I need a replacement) with a Manfrotto 496RC2 ball head and a Manfrotto 055XCCSB Short Center Column, and finally a RFN-4s Wireless Remote Shutter Release. Attached to my lens is the lens hood and Nikon 77mm Circular Polarizer II Filter. Sometime's I'll use my Alienbee AB800 with my Vagabond Mini battery pack. As for memory, I use Sandisk everything.
Alienbee setup

For computing purposes, I have a mid-2010 Apple Mac Pro and a 2011 basic Macbook Air 11″. I have numerous back up drives from G-Technology ranging from 2TB to 4TB. I also have a Lacie 500GB Rugged hard drive for travel.
When it comes to software, I use mainly Adobe Photoshop CS6 and Lightroom 4. I also use Transmit to access my FTP uploads.
I don't handle my own printing so I put my prints up for sale on my Society6 page, which you can fine here.
Adrian Leszczyński Looking back at all the cars you've photographed, were there moments where you wished the owner would just hand you the title and keys and you could be on your way? If so, which car would you want that situation to happen with the most?
Hmmm… Hard to say, I never form an "emotional" attachment to the cars I shoot and the reason is because I want all the cars that I shoot to receive the same and best treatment that I can possibly give them. However, I must admit that there are times where I am more excited to shoot a certain car though. Like this shoot for example of an extremely rare Nissan R34 Skyline GT-R.
Gordon Ng How do you increase the lighting of the car? I can never do that without sacrificing quality and increasing the amount of saturation.
Masking and multiple layers in Photoshop. I mask everything and adjust them all separately.
Nick West what is your go to lens for shooting cars
It would be the Nikon 24-70mm F/2.8 since it's so versatile and that's the range I use the most. I'm sure, if they made similar lens with a long zoom range but just as fast, I would totally jump on it, since I do miss the 100mm-ish range.
Robert Skinner In your opinion what's your favorite car that you have shot?
The answer is in a few questions above.
Jacob Alexander Tips on lighting cars evenly and what is your post-processing routine from start to finish?
Well, that depends. If I used external lighting, then I stack the lit up layers and mask them. If I only used natural light then I would mask and use multiple exposures.
External strobes stacked

Natural light with multiple exposures

JJ Birr When did you realize you could use the Force?
Never realized that I could.
Alex Hwang When will you get photos of Datsuns?!
When the opportunity presents itself, I totally would. I love old school JDM.
Manoj Mandava What is the software you use?
Adobe Photoshop CS6 and Adobe Lightroom 4.
Ryan Kam What is your workflow on your photos? From when you shoot the pictures, to importing them, to organizing all of them. What has worked the best for you.
Import to Adobe Lightroom 4 > Select and organize batch of good angles > Export to specific desktop folder in highest quality > Edit in Adobe Photoshop CS6
There are other ways to import and organize photos; however, with Lightroom, I am able to do a quick "rough draft" on photos to see how they will ultimately turn out. Plus it's great for Facebook teasers.
Mike Hill Can you explain what rice actually means..
The term "rice" to me has no negative connotations, at least when I use it to refer to a car. Rice to me means that the car has a lot of Japanese domestic market or Japanese aftermarket parts on it. Rice is a quality car build that utilizes a good amount of Japanese parts. Kien's custom widebody Acura NSX is a great example:
Mike Hill Did you take any pictures of fish tanks lately?
I'm actually surprised that there are those who do know about my past hobbies before I even started photography. I have not touched a fish tank since 2007 unfortunately, but I do want to get back into it and start it again. The hobby just requires time and that's something I don't really have at this point and time of my life. I still have all my aquarium gear from back in the day.
My monstrous 40 gallon fresh water

My 10 gallon version 1

My 10 gallon version 2

My 10 gallon version 3

My 1 gallon version 1

My 1 gallon version 2

You can say, I was pretty obsessed. Fish was what pushed me to purchase my first DSLR in the first place.
Justin Cook Do you listen to music when you edit your shots? If so, what kind of music?
Recently, I've found myself listening to rap. I grew up listening to west coast gangster rap, Tupac, and Biggie. When it comes to rap, I like Dr. Dre's Chronic, Snoop Dogg's Doggystyle, some Ice Cube hits, and I prefer Biggie beats and Tupac lyrics. I also like YG, Drake, Little Wayne, and Jay-Z. Kayne West is a hit or miss for me. Other than rap, I like trance and house music. I've been listening to EDM since I was a teenager. It all just depends on what mood I'm in.
Brian Sousa If you were only allowed to drive three cars for the rest of your life. What cars would you choose and why? Any three cars. This includes custom built vehicles as well.
A Porsche, A BMW E30 M3, A Nissan R34 GT-R. I stayed away from super cars simply because there's too many that I would want and I would have to be too careful driving them.
Ali Shanan What do you usually use for your lighting?
I usually just use natural light with a large reflector as assistance if I need to; however, most recently, I've used external strobes for a more dramatic look.
Richard Sollorz Top 5 tips for marketing yourself as an automotive photographer
Not really a question but I'll still answer it.
1. Share your content on related sites
2. Practice
3. Connect and network with the right people
4. Build longterm relationships
5. Don't burn bridges
Jerald Yutadco What gel do you use? And what brand comb?
I haven't used gel since 2005. I don't use a comb. I do use, Gatsby products.
Jeudi Xiong What is your favorite lens? If you had to choose one. (I'm sure you've answered this a hundred times)
My favorite lens… it's a hard choice because I haven't tried each and every lens that exists out there and will never get the chance to. Sorry, I can't answer this question. I do want to use some Zeiss lenses though.
@catuned How do you keep your hair so silky smooth?
I wash my hair everyday.
@m_i_c_k_e What type of camera do you use? @1013mm
A Nikon D800E, Iphone 5, and a Fujifilm x100s.
@klumzyee When it really comes down to it.. Do you prefer mangos or papayas?
Mangos. I've always preferred them. Papayas are just fake mangos and shouldn't exist. Too bad I'm somewhat allergic to Mangos now, I used to be able to eat a box of them in mere days.
One of my favorite places for my Mango cravings

@martinezbuilds @1013mm what is a good focal length for car shows?
I would say anywhere between 17-55mm for cropped sensors and 24-70mm for full frame sensors. Anything too wide will distort the cars and anything too long will end up signaling that you're an undercover creeper only there for the models. Don't be "that guy".
@jeffersonho when are you and @courtney_wingfield coming to visit Vancouver?
I've already been once. I must say though, I like it there a lot, especially the Asian malls. I wouldn't mind going there again since I like to travel. I'm just waiting until the time is right when it comes to weather, work, or just simple boredom.
I hope I answered all the questions from Volume 1. I did leave out the ridiculous and obscene questions. I was hoping to answer more questions since I usually like reading these Q&A's and I was hoping to answer questions on other topics or even humorous ones, but I guess better luck next volume right? If you have more questions for me, I will have another Q&A in the future, or you can ask me on my Facebook page, Instagram, by leaving a comment below, or by emailing me.