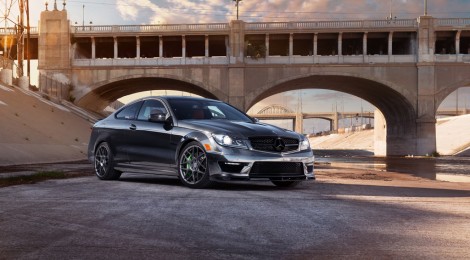 Impressive Wrap Mercedes Benz C63 AMG
I've always liked the dramatic body lines and curves of a Mercedes Benz but I rarely get a chance to shoot them for some reason. I finally got a chance to shoot my first C63 AMG. It was a great opportunity however, the car was wrapped in black chrome by Impressive Wrap which would prove very difficult to photograph because of the wrap's dark and highly reflective nature. Knowing all this, I didn't back down and decided that it would be best to strobe the wrap in order to bring out the chrome and body lines of the car at the same time. It's similar to what I did when I shot the brushed chrome Liberty Walk Lambo, but the difference was I had all the lighting controlled with the Lambo since I shot in a closed environment.
With this Benz I would be shooting during sunset, which I chose specifically since the sunset would give great natural gradients. By mixing the sunset ambient light with the Alienbee strobe, I felt that I would be able to bring out the chrome's shiney-ness without overexposing it. Keep in mind the wrap is black chrome and not just chrome, otherwise the car would have been even more reflective. At some angles, the car would be very dark and flat while at other angles the car would give off that mirror-like look. Shooting any type of chrome is prone to massive reflections so I angled my strobe at angle that would only bounce light off the wrap and not directly at the wrap. Think about taking a selfie in a mirror with the flash on, your face would be consumed by a huge flash ball. By aiming the strobe at an off-angle, I was able to bring out the chrome without it displaying multiple flash balls/hotspots on the car. I'll probably end up posting a behind the scenes of this shoot in the near future so you have a visual of what I'm talking about. Until next time. Enjoy.